Bosal In-R-Form Plus

Fusible, 36"x58"


Bosal Mini Poppins Bag Bottom
Bosal Scalloped Bag Stablizer
fast2fuse heavyweight
Inspira Tear a way Light
Inspira Tear a way Light
Jenny Haskins Cutaway Magic

Sheer fusible cutaway stabilizer. 12" x 10 yards


Jenny Haskins Dissolve Magic

Water soluble stabilizer. 12" x 12 Yards


Jenny Haskins Web Magic

Use web magic to create beautiful appliques for your most intricate projects


Lite EZ-Steam II 1/4" x 40 yards
Lite Steam-a-Seam2 24"
Pellon Peltex 72F 2 Sided Fusible
SF101B Shape-Flex Black
Soft and Stable 18" x 58"

Soft and Stable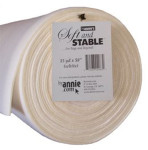 Soft and Stable 58" Wide

Soft and Stable by Annie by the yard 58" wide.


Sulky Cut-Away Plus

Cut-Away permanent stabilizer. Medium weight non-woven stabilizer with a soft hand and excellent stability


Sulky Fabri-Solvy

Fabric-like water soluble stabilizer. 8" x 9 yards


Sulky Soft 'n Sheer Extra

Iron-on cut away permanent stabilizer. 12" x 9 yards


Sulky Solvy

Water soluble stabilizer. 19 3/4" x 36"


Sulky Stiffy

Crisp firm tear-away stabilizer



Out of Stock
Sulky Super Solvy

Heavier water soluble stabilizer


Sulky Ultra Solvy

Extremely stable water soluble stabilizer. 20" x 36"


Sulky Ultra Solvy

Water soluble stabilizer. Size 19 1/2" x 3 yards



Out of Stock
Sulky Ultra Solvy

Water soluble stabilizer. 7 7/8" x 8 yards



Out of Stock