Bosal Fusible 2" grid for watercolor or bargello

2" fusible grid for watercolor or bargello quilting.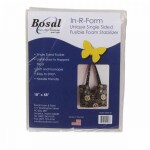 Bosal In-R-Foam Single Sided Fusible 18"x58"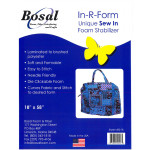 Bosal In-R-Form Foam Stabilizer
Bosal In-R-Form Plus 24"x58"
Out of Stock
Bosal In-R-Form scallop PM8
Bosal Katahdin On A Roll
Bosal Katahdin On a Roll 25 Yd
Bosal poly Therm Fleece
Out of Stock
Bosal Scalloped Bags #493
Bosal Sleigh/Auntie's Two Pattern
Craf-Tex Placemat Craft Pak
Out of Stock
Decor-Bond #809
Duet-Fuse II On-A-Roll

Double sided fusible 2.25"x20 yards


Fast2Fuse

Double sided fusible stiff interfacing


Heat 'n Bond Lite

17" wide


Madeira Starter Set

Premium stabilizer starter sampler pak


Misty Fuse
Pellon Clear-Backed Fusible Web

Pellon Clear-Fuse 800. A clear-backed fusible adhesive that allows you to see your tracing from either side for all your craft projects.


Pellon Craft-fuse

Light crisp iron-on backing material adds body and strength to all fabrics


Pellon Peltex 1-sided Fusible Ultra Firm
Pellon Stitch-n-Tear

Tear-away backing for decorative stitchwork


Pellon Wonder Under #805
Peltex Sew-in

Sew in, extra firm for crafts


Softfuse - 10 Sheets 8"x9"
Stitch Witchery

Web on release paper. For appliques trims and other uses


Stitch Witchery 1"x13 yards
Sulky Cut-Away Plus

Cut-Away permanent stabilizer. 20" wide sold by the yard


Sulky Cut-Away Plus

Medium weight cut-away stabilizer


Sulky Stiffy

stiffy crisp firm tear away stabilizer


Timtex